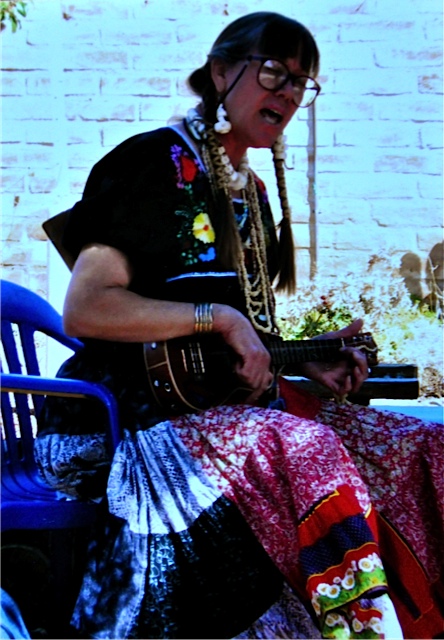 Cathie Jo Buhlert aka Shar Shk Buk was born in Torrance, California on January 7, 1957. She graduated from Torrance High School in 1975 and went on to graduate from El Camino College with an Associate of Fine Arts in 1978.
In 1979 she traveled to Alaska and in 1983 established "Quietude" Homestead and Pottery. During her time in Alaska she homesteaded 20 acres, built two log cabins and lived in the woods for 13 years. While living in Alaska she experienced a profound spiritual awakening.
She was initiated into womanhood in three days of flowering and beautifully ornate ceremony by a Mayan Shaman in the spring of 1995, her 38th year.
She was a farmer of chickens, turkeys, goats and garlic in Allison, Colorado from 1998 to 2003. During that time she continued her work as a potter, started painting on canvas and began her initial mask making process which later developed into assisting others with their personal transformation through artful ceremony.
In her 52nd year she performed a modern adaptation of the traditional, ancient Azteca burning ceremony: her own, "every 52 year, burn everything and begin again ceremony". In her 52nd year she opened her 1st public art studio and began giving back to the community.
Her work has been shown in Alaska, Arizona, California, Colorado, New Mexico and Washington. She has also been published in Studio Potter Magazine in the December 1991 issue and the June 1992 issue. Photos of her work and her writings about her relationship with these works were published in; Pit Firing Ceramics: Modern Methods-Ancient Traditions, by Dawn Whitehand, Schiffer publishing, 2013. Cathie Jo has recently relocated from Suquamish, Washington to Pollock Pines, California along with her new dog Starfish. Heidi Ho and Moon Doggie RIP in Suquamish Washington.